Heavenly Heat Saunas
Heavenly Heat Saunas are hypoallergenic and are put together with non-corrosive steel screws and thick paneling (2-3X the norm) to assure the clean air environment that's essential for detox, as well as the strength & durability to last for decades.
Others are designed for rapid production, not for the "purity" found in our true medical-quality detox saunas.
Several sellers create impressions that their saunas are built like ours. They may use a low-resin wood and describe their glued-together saunas as hypoallergenic!
The market is filled with sellers of well-promoted Chinese saunas. The "glue factor" is downplayed with claims of using a little water-based glue. The construction of each Asian FIR sauna we've seen was basically adhesive-reliant. These thin-paneled saunas would risk durability unless lots of very strong adhesives were used.
The last thing you want to do is sweat out one toxin and inhale fumes of another!
Heavenly Heat was founded 28 years ago as one of America's first distributors of far-infrared (FIR) saunas. We found that these imported saunas were built with adhesives and other materials that were objectionable to chemically-injured folks, so we began building saunas they could safely use. As a result, Heavenly Heat saunas are built for optimal safety and effectiveness. Only the best materials are used, with innovative construction methods that avoid the use of glues.
Each sauna is built without wood glue, varnish, or plywood. Only the highest, "clear" grade of white poplar is used - for all wooden parts of each sauna. All framing boards are securely screwed together, rather than nailed and glued, as others do. All windows are made of strong heat-tempered glass. Window gaskets are custom-milled poplar rather than common synthetics. Lights are plain metal and glass, rather than typical coated metal or plastic. "Gadgets" like CD players and ionizers are excluded to limit the heating of synthetics. Each sauna has a passive venting system for an automatic, constant air-exchange. Our far-infrared heaters are tested to assure low electro-magnetic fields (EMF). For highly sensitive individuals, mostly-glass units are available, at no added charge. A carbon filter purifies the air leaving the sauna, before it enters your living space. Wall-connecting latches (used in FIR models) are stainless steel; door latches are brass.
Our Far Infrared Heaters
Heavenly Heat DOES NOT USE CHEAP "CARBON" HEATERS. Claims are made all over the internet that carbon is superior to ceramic because it is "new technology". In this case, newer does not mean better – it may mean "more profitable", but NOT therapeutically better! Despite the hype, the newer ceramics are much better than carbon! They are ceramic-coated stainless steel - much larger and more durable than the older ceramic emitters. The ceramic is a glaze made of clay and minerals based on the patented Japanese formula that was used to create the first FIR saunas. They emit FIR at a much higher rate than the so-called "carbon heaters".

The carbon heaters we've seen were sheets of plastic covered by synthetic cloth! Cheap black cloth is glued onto the plastic. It does not matter if these heaters use carbon or ceramics as the fabric cover becomes the main FIR radiator – but try marketing "polyester heaters"!
We offer Far infrared Saunas, Traditional Rocks Saunas and Combination Saunas
Traditional Models
Model A 3'0" x 4'2": A comfortable personal sauna; with a 110V (A1) or a 240V (A2) heater.
M1 4'7" x 6'2": An exceptionally comfortable home sauna for 2 or 3.
M2 4'7" x 7'6": For ultimate comfort for a couple, a small family, or a clinic.
M3 5'9" x 7'6": Our largest unit for families and clinics.
The Rocks Heaters
The stone heaters are UL/CSA-approved, deluxe stainless steel models with a thermostat, timer, and over-heat protection. The hot stones emit FIR abundantly and allow for humidity control. The air is charged with refreshing negative ions when the stones are moistened.
The Combination Sauna – FIR & Traditional Rocks A+ 4'2" x 4'3": For 2, with authentic stone heating (120V or 240V) & FIR.

The FIR Saunas
FIR1-Eco An economical personal sauna with 4 FIR heaters
FIR1: A personal sauna with 6 FIR heaters, designed for full body exposure.
FIR2: A large, standard style, 2-person FIR sauna with 6 FIR heaters.
FIR2DX ": A larger, deluxe, 2-person FIR sauna with 7 FIR heaters.
FIR3: An extra-long 3-person FIR sauna with 8 FIR heaters.
FIR4: A 4-person model with 8 FIR heaters for families & clinics

M models require professional electric hookup. All others plug in.
Standard features in all models include: extra wide benches, a towel bar, an air filter, and a tempered glass door.
| | | | | |
| --- | --- | --- | --- | --- |
| Far Infrared Saunas | FIR1-Eco | Personal | 44" x 40" | 4 |
| Far Infrared Saunas | FIR1 | Personal | 40" x 53" | 6 |
| Far Infrared Saunas | FIR2 | 2-person | 45" x 52" | 5 |
| Far Infrared Saunas | FIR2DX | 2-person | 45" x 54" | 6 |
| Far Infrared Saunas | FIR3 | 3-person | 45" x 71" | 8 |
| Far Infrared Saunas | FIR3 | 4-person | 54" x 73" | 8 |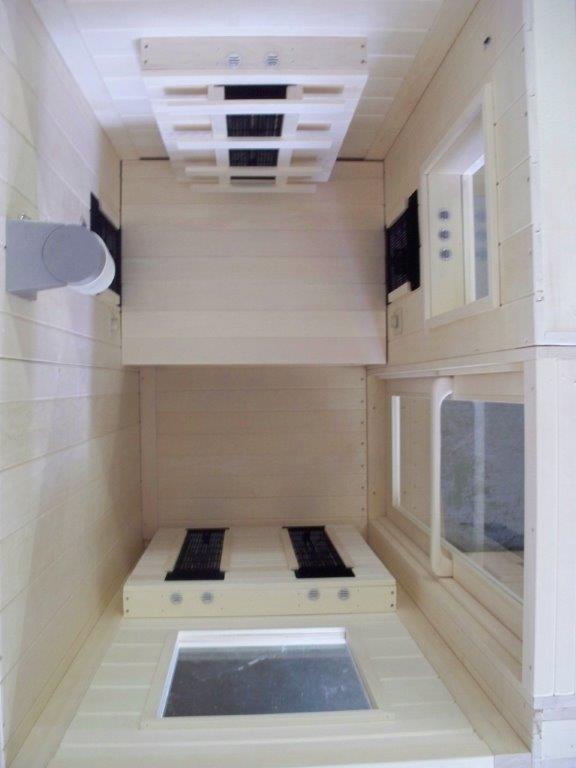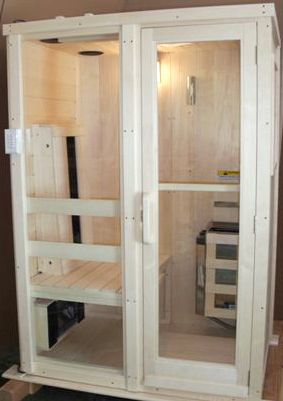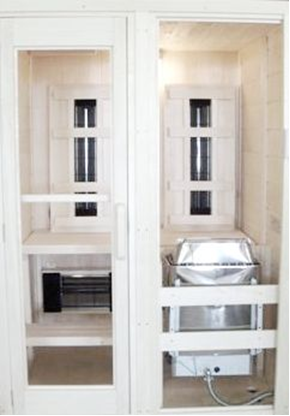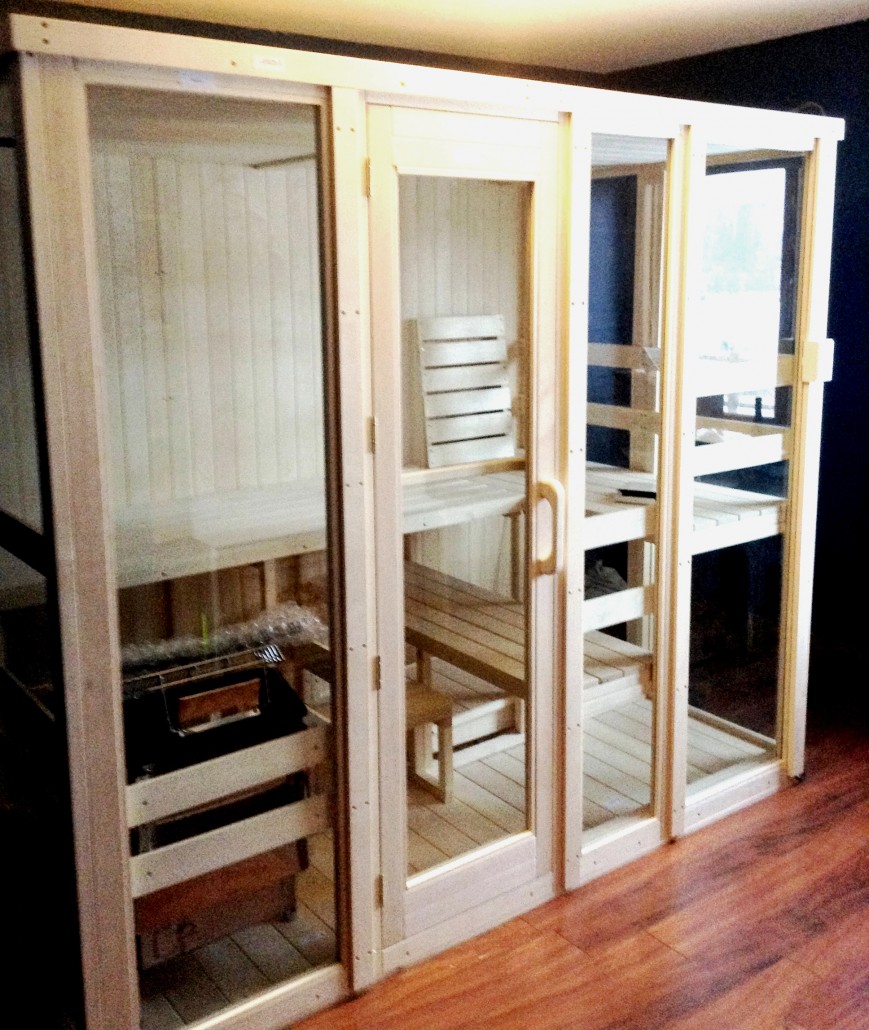 The Glass/Wood Choices

Each model has a standard amount of glass, listed in the "Detail Sheet" chart under "GL." You can change the amount of glass by selecting a "GL" option at no extra cost. Wooden walls retain heat slightly better than glass panels. The abbreviations used for the glass options are:
GLD: an all-wood room with a glass door. GL3: glass on the front and both sides. GL1: glass in the door and the front wall section(s). GL4: glass sections all the way around. GL2: glass on the front and 1 side, or on the approximate front ½ of the A+, M1 or M2.
There are no products listed under this category.