Therasage Tent Sauna 360 Full Spectrum 220v
SKU:

tent220v

UPC:

64036

MPN:

ps2002

Weight:

26.00 LBS
Description
The Therasage Infrared Sauna 220v offers

Full Spectrum Deep penetrating Infrared, Negative Ions, Earthing, and no exposure to harmful EMF's, and now has heaters in the front of the sauna.



The NEW Therasage 360 Tent Sauna is now shipping and the only sauna with heaters on all sides making it the ONLY tent sauna with a front panel for 360 degrees of infrared heat.
* Premium Portable Sauna generates heat with FIVE exclusive POLYGRAPHITE Panels
The Therasage™ Portable Infrared Sauna offers all the benefits of the more expensive saunas at a fraction of the price, and without any of the space restrictions. It folds up easily for storage under a bed or in a closet, uses very little electricity and emits minimal EMF. The unit also includes two soft terry cloth washable neck collars that zip on/off for easy cleaning, storage pockets, a folding chair and carrying case for convenience and portability. Relax, detoxify, improve circulation and boost your metabolism all while reading a book or watching TV in the privacy and comfort of your home! Or anywhere you like! Additional Mini FAR Infrared Space Heater is also available as an accessory for a maximum therapeutic infrared heat experience.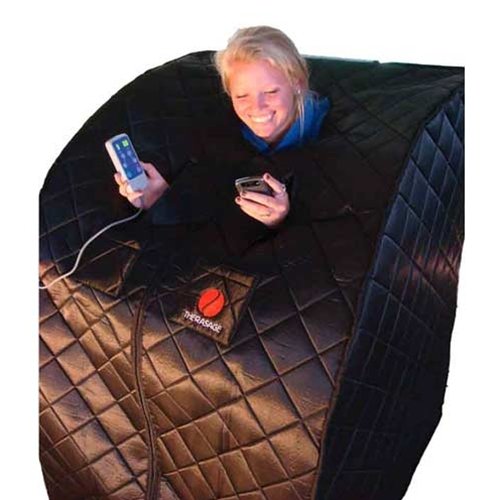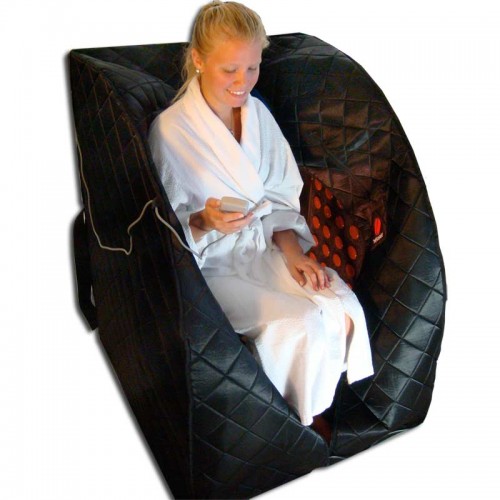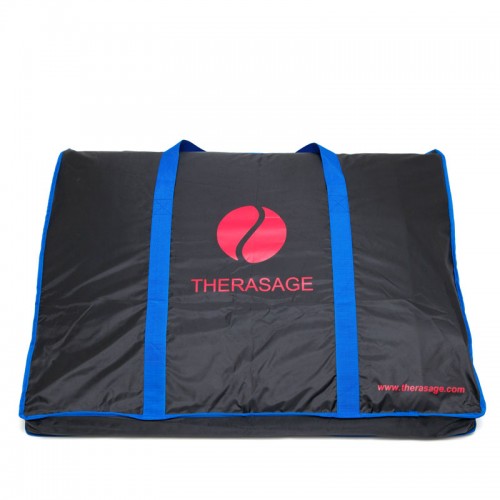 Features and Benefits of the Therasage Portable Infrared Sauna:
*Large Natural Tourmaline gem stones to generate an abundance of Negative Ions enhancing the Full Spectrum Infrared experience!! (We do not use a separate ceramic heater like most other portable saunas)
Multi Setting Remote with Time and Temperature Control with auto shut off

Safe, long lasting therapeutic heat allows natural pain relief

Tourmaline for even distribution of Infrared Heat and Negative Ions

Includes two washable, removable terry cloth collars

Non-Toxic, Antibacterial materials

Includes carrying case & portable folding chair

Extra long 12-foot power cord

Uses simple 220v current and draws 30% less power than a hair dryer - can use a 220v to 110v converter for US. Converters available on Amazon

Folds and stores easily under bed or in closet
Dimensions when set up H-42" x L-32" x D-39"
* Low energy usage (about 8 cents an hour) and plugs into any standard wall outlet, no special electrical wiring needed


*Enhanced Digital Control with 7 temperature selections up to 170 Degrees and extended timer up to 90 min.
*Radiant heat anti-microbial anti-bacterial

*Comfortable upgraded chair



View All
Close
Warranty Information
For the first year after purchase, Therasage, at its discretion, will repair or replace any defective part, component, mechanism, or  material. This warranty coverage includes all defective parts, labor included. The  Warranty Period shall commence upon purchase of the Product by the end‐user  consumer from an authorized dealer. Each consumer is urged to register the product through the Warranty Registration Form attached hereto.This Limited Warranty is not transferable. This Warranty can only commence once proof of  purchase (or gift) is provided.
View All
Close