Description
The Cocoon Sauna Dome with Thermo Fusion
Relax in the Cocoon and enjoy Hot massage, relaxation, aromatherapy, weight & inch loss, calorie burning, body firming and muscle toning all in one session.
•Easy to Use & Operate: Easy access, touch screen controls via convenient hand-ports allows the user to select and adjust wellness parameters at any time during the session.

•Effective, Long-term Results: With continued use, typically 1-3 sessions per week, people will see a significant improvement in the way they look and feel. Typical session times range from 15-20 minutes
Optimum wellness renewal, rejuvenating meditation and other refreshing mindfulness benefits. The Cocoon POD can help you feel and enjoy the vital connection between mind and body for improved mental focus and acuity.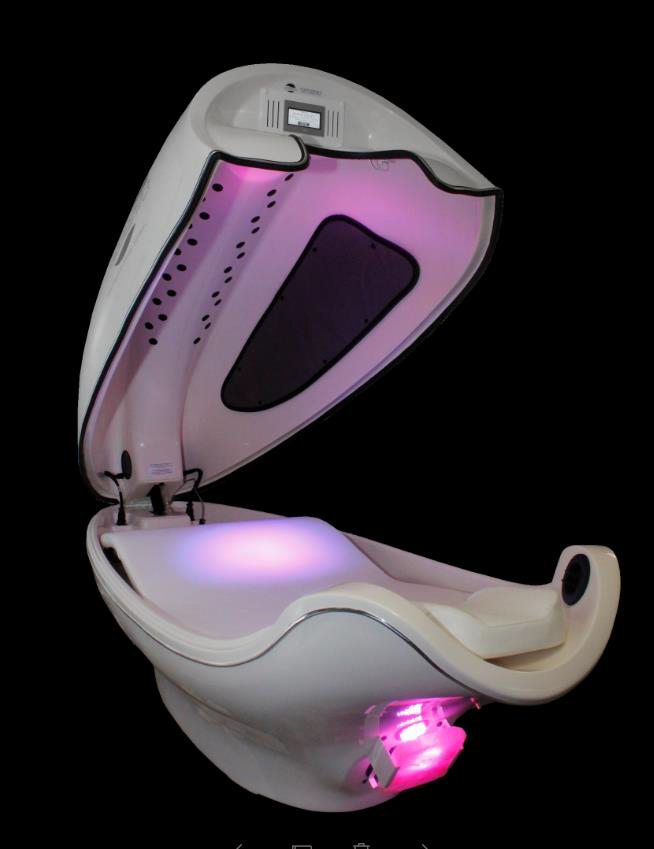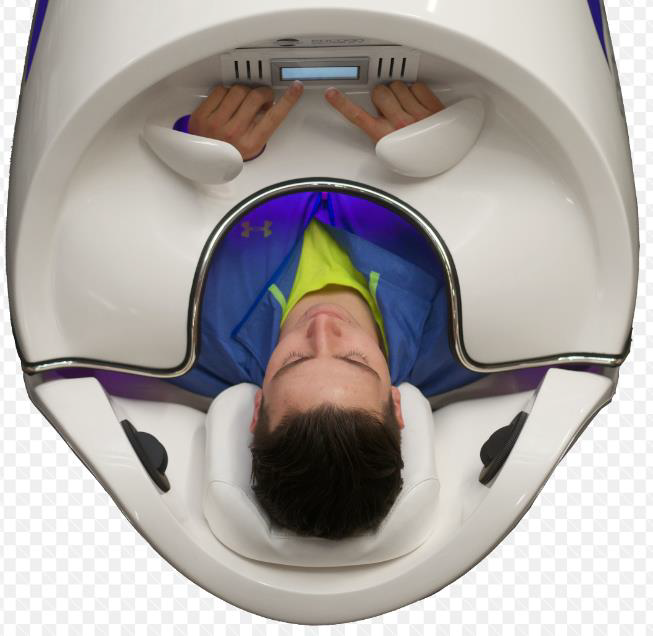 • Radiant Heat System: Can be used separately or combined with Dry Heat for Fitness Conditioning.

• Integrated FitBed™ System:
Includes resistance TUBES (two different resistance levels) and handles for easy attachment to foot of bed. Fitness exercise resistance bands and the contoured bed effectively target the arms, chest & core.
Enables users to perform HiiT "High Intensity Interval Training" for fitness conditioning, muscle strengthening & flexibility exercises while lying in the Cocoon.

• Enriched Air System: Air intake ports for enriched oxygen, intake fan for humidified, vaporized air
• Himalayan Crystal Salt: 6″ x 6″ salt tile applied to intake fan for refreshing salt-air.
• Ergonomic Contour Bed with Soft Cushion Pillow
• Vibration Massage: Dual wave adjustable massage vibration system
• Cool Face Air System: Dual ports, adjustable cooling face fan with ionized air
• Aromatherapy System: Includes 4 pure essential oil aroma blends
• LED: Chamber has soft and beautiful interior blue / red light illumination
• Body Chamber: Professional-grade fiberglass, germ-resistant gel coat
5 Preset Programs: Xpress Shape, Xpress Cleanse, Xpress Fitness, Vital Energy, Stress Free

Dry Heat System: Precisely Adjustable from Ambient to 180 Fahrenheit

Ergonomic Contour Bed: Soft Cushion Pillow
NOTE: Shown With Pedestal Base & Jade Mat - Sold Separately - Call For Details
• Warranty: One (1) year standard warranty 2 year on the pod.
Calorie Indicator: The Cocoon POD software includes a wellness option for tracking and displaying calories burned during Cocoon POD's thermal weight management sessions.
Dry Heat:
The three levels of near, mid and far-infrared lighting work to deliver a dry heat treatment that can be set from ambient to 180-degrees Fahrenheit. The infrared lighting treatment is like stepping into a dry sauna. Exposure to dry heat accelerates heart rate, speeding the circulation of blood, typically doubling the flow of blood through the body. Exposure to dry heat speeds metabolism efficiently, allowing your body is to use calories consumed for energy instead of storing them as fat. Especially during fall and winter, joints become stiff and crack and pop and muscles tighten and ache. Through exposure to infrared heat, joints become more supple, muscles are relieved, and body flexibility increases. The sweat induced by dry heat exposure opens pores to release toxins and accept treatments. And, lastly, dry heat induces an undeniable relaxation with an enveloping, hugging heat: a perfect setting for meditation and release of the day's worries.
Massage:
MyCocoon delivers a full body vibrational massage therapy with a dual wave massage vibration system. Vibration is one of the five classical massage strokes that hails from ancient civilizations. Ancient Chinese medicine masters used vibration to raise the level of life force and stimulate or loosen muscles. Since the 16th century, Japanese schools of massage have used vibration to loosen rigid muscles and reduce rheumatic pain. Therapeutic vibrations exert a small, rhythmic force that travels deeply within the body cavity to exert small pressure waves on resistant muscles that feel tight. Gentle forces stretch the muscle until it reaches relaxation. The machine vibration employed by the McCocoon is even more effective than a massage therapist for this technique.

New Thermo Fusion Sauna Delivers More Wellness Benefits and Faster Results
Recently a new technology sauna, called Thermo Fusion Sauna (TF), combining convection DH with IR in a powerful vortex, has become available in the US. The new TF provides greater wellness results in a shorter time session, which is great for users and salon owners.
Core Body Temperature: The objective of FS, DH, IR or TF saunas is to raise the core temperature of the body – called Thermal Conditioning. The total sauna energy raises the core body temperature, the body works and burns calories to maintain an acceptable core temperature. The person's body physiologically responds to thermal stress, acclimates, adapts and changes while becoming more physically conditioned. The wellness benefits of thermal conditioning include relaxation, stress relief, perspiration, cleansing, increased metabolism, circulation, calorie burn, weight management and associated weight loss, flexibility and more. Enjoy physical fitness and wellness sessions from 20 to 60 minutes.
Thermo Fusion (TF) Saunas combine both convection Dry Air and IR heat in a powerful vortex for 'the best of both technologies.' TF saunas are designed to deliver the most total sauna energy per sf to the whole body, creating thermal fitness response and greater thermal conditioning results in less time for maximum user conditioning benefits. New TF innovations include oxygen enriched air, salt-air, aromatherapy and cooled humidified air for breathing only. TF saunas can include built-in entertainment or web-access systems, precision digital controls, calorie displays, multi-sensory technologies. TF sauna thermo-sensors and software allow precise temperature control for both highest and low heat programs (+/- 3F) for more accurate, pre-set precise control of total body thermal conditioning; the low temperature controls uniquely prevent sweating and expand low-heat fitness wellness services for elderly populations. The TF user does not breathe heated air, and the user's hair and face is not subjected to heat for more comfortable sessions.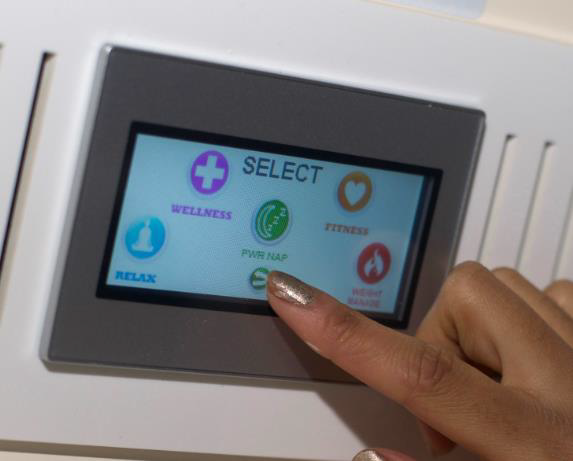 Touch Screen Control: The user may select and adjust the desired level of heat, massage and cooling air-flow at any time during the session. The lighted screen features a running timer and a screen change will notify the user when the session has ended.
•Easy Access Hand-Ports: There is no need to raise the canopy to access the Touch Screen Control. Easy access hand ports can be flipped open by the user to provide access during the session.
•Built-in Timer: The unit features a built in timer that can be pre-set to desired session times. Unit will automatically shut-off at the end of the session.
•T-Max Compatible for Front Desk Control: The unit may also be controlled from the front desk or other area via the use of a T-max remote timer. This allows the business operator to send desired session time to the unit. Unit will then automatically shut-off at the end of the session.
•120 volt / 20 amp, Plug-In: The Cocoon operates on standard commercial electrical service. A Nema 3-prong outlet is required.
•Post-session Cooling: The unit's internal fan will continue to run for 60 seconds at the end of each session. This helps keep the unit operate at the optimum temperature and performance levels.
•Easy to Clean and Maintain: Using a clean cloth and approved disinfectant / sanitizer, the operator simply wipes down the system between each session. The lounge may be easily raised and secured via a built-in stand for fast cleaning.
•Low, per Session Operating Cost: The Cocoon costs about 15 to 20 cents per 20-minute session to operate. (Electrical consumption).
•Room Size, 8' x 7' to 8' x 9': The unit is 89" long (7'4") and 35 inches wide (at its widest point).
2 to 5 week delivery. Call for availability. Pedestal in included in the price. A $520 Value
*Disclaimer: Cocoon is an exercise fitness system. Individual results may vary.
Cocoon is not a medical device and makes no medical claims and should not be used for medical purposes, and has not been evaluated or approved by the FDA for any medical purpose. Cocoon is not intended to diagnose, treat, cure or prevent any medical condition or disease.
Note: Only your doctor can recommend specific sauna benefits for you. Never consume alcohol before entering the Cocoon. Be sure you are well hydrated before and after use. Do not use if you are pregnant or have a heart condition. Great Solutions, LLC makes no claims as to the specific benefits of its Cocoon use for individual users.
View All
Close